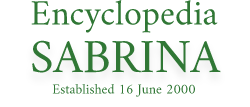 Norma Ann Sykes D.Litt (Hon) is the voluptuous British Stockport lass, Norma Ann Sykes, who became Sabrina and accomplished above the hips what Elvis accomplished below.

She is the Cheshire cheese-cake pinup, actress, singer, cabaret star, publicity pioneer, and sex-queen who didn't like to be touched.

She was a 'dumb blonde' who was a genius at self-promotion, an ill-educated teenager because of lengthy hospital stays, and an honorary Doctor of Letters with an impossibly-proportioned figure.

A victim of polio, mocked for her lack of talent and excess of bosom, she became an international phenomenon who dated princes; charmed dictators, the public and cynical reporters; and generated more myths, lies, legends and throbbing memories than anyone else of her era.
She's Our Sabrina.
Welcome to Encyclopedia Sabrina
SABRINA SHORTCUTS
The Life of Sabrina | Photos | Magazines and Newspapers | Movies | Stage shows | Plays | Interviews | Odd Things | Dramatic Incidents | Readers' Memories | Advertisements | In Australia 1959 and 1961 | Goon Show references | In books | Newsreels | Short films | Television | Songs | In Court | Nude
---
Contact Mark, the SabrinaMaster
Newest Sabrina
Stuff

21 July 2017 - Thanks to Countess Anastasia of West Siberia, we have some great new pix of Sabrina in Melbourne in 1959. Thanks, Countess!

Sadly there is no date or identification of the publication. The text reads:

Sabrina gets a chance to relax at home

It's better than television in Hansen St, East Brighton, some Sunday afternoons.
For neighbours only have to glance across one of the living room windows to see Sabrina at home.

Out of the public eye as she sat on the floor today with her long blonde hair round her shoulders, Sabrina sighed contentedly.
"I love to relax with friends - and I hardly ever have the time."

Sabrina's sanctuary is the home of Mr and Mrs Simon Shinberg.
At present it's the only place where she can forget she's a celebrity.

Even thought she accepts philosophically all the stares from the crowds that gather round whenever she goes ("after all, I chose this sort of life") the blonde with the fabulous figure loves to have an 'away-from-it-all' Sunday.
"At home in England I usually go for a ride or a walk with friends, or watch television (I love television) or go to a movie," she said.

HE GOT PHOTO

And with her friends in Hansen St, she watches TV, plays with the children, or just sits and talks.
But once outside the house it's different. Take the group of young locals who gathered round one Sunday to get autographed photos.
One little boy took his photo, then asked Mr Shinberg if Sabrina was a dancer.
"Why do you want my photo if you don't know what I am?" asked Sabrina.
The admirer looked at the flash of mauve in the driveway and said: "Well, you've got a beaut car!"

Picture caption: LIVING the simple life, Sabrina gives Debra Shinberg a ride on a rocking horse.


For her exemplary services to Sabrina, Anastasia has been made Countess Anastasia of West Siberia

See all the Sabrina News since the site began.

Welcome

to the

Sabrina

Site

Sabrina - Norma Ann Sykes - was the impossibly-proportioned darling of Britain, the cast of the Goon Show, and most discerning testosterone-enabled beings during the 1950s and 1960s.

Falling more or less accidentally into an industry for which she was - at first - unqualified, she endured, trained, paid her dues, and thrived to become the biggest, least talented, most photographed celebrity of her day.

Was she, as she herself once said, just a dumb blonde with a 42½ inch bust and a 17 inch waist? Or was she an unacknowledged promotional genius with a native sense of publicity that would make most agents weep with envy?

Please enjoy the phenomenon that was our Sabrina who - contrary to rumour - is alive, gorgeous, and fairly well in Hollywood, and in contact with the Sabrina Site!

You're new here?

You're new here?
You're frightened, confused, overwhelmed by the sheer hugeness of Sabrinastuff?
Here's a good place to start your Sabrina experience.
The Life Story of Sabrina
Could there be a miniseries in this?
Vince Gilligan, let's do lunch.

Photos- literally thousands of them. Let's face it: Sabrina was not camera-shy.

Vintage magazines and newspaper articles - hundreds to peruse. Let's face another fact: Sabrina was not averse to publicity, and there was a fascinating farrago of Fleet Street facts and fantasy. Read all of it; believe half of it. Cry out "Bloody Nora!" over the other half.
Sabrina in Australia 1959 and in 1961

Sabrina University - academic interest in Sabrina

Sabrina in Court - Sabrina has spent quite some time in court - find out why.

Sabrina's movies. All ten of them. She was always perfectly cast.

Stock Car (1955)
Blue Murder at St. Trinian's (1956)

Ramsbottom Rides Again (1956)

Just My Luck (1957)

Make Mine a Million (1959)

Satan in High Heels (1962)

House of (the) Black Death (1965)

The Phantom Gunslinger (1967)

Mountains of the Moon (1967) with Tarzan!

The Ice House (1969)


Chiswick Empire 1955

French Capers - 1955

This'll Make You Laugh - 1956

Pleasures of Paris (London) 1957

Pleasures of Paris (Australia) 1958-9

Showgirls - 1961


Sabrina's songs. Not a large discography, but a memorable one. Sabrina sings the sexy blues on vinyl in 1957.

Sabrina's plays on stage. Legitimate theatre, darrrrrrling!

Pajama Tops (1965-1966 in Baltimore and St Louis)

The Loving Couch (1966)

Rattle of a Simple Man (1966)

The Sabrina interviews - by phone, by me.
Also see In Touch with Sabrina - my contacts with Sabrina.

Sabrina references on radio (featuring steam-powered Goon Show references to Sabrina - where this site began!)

Sabrina was an object of fascination and unbridled lust to the Goons - especially author Spike Milligan. Uncover the cryptic references to Sabrina that have puzzled some younger listeners, and forced older listeners to call the nurse and draw the brown paper screens.

Sabrina in the Newsreels - from the days before TV news, the stars appeared before the feature film in the cinema. And Sabrina was often there.

Sabrina's Short Films. When gentlemen's clubs needed to see Sabrina washing her hair, or going to bed!

Sabrina on TV - Before Your Very Eyes, and in America.

Sabrina's advertising was a powerful attractant to men who had trousers bulging... with fat wallets.
Of particular importance is Sabrina's infamous Caltex ad - still popping fly buttons 50 years later.

Readers' Memories of Sabrina. The knees may be older, and arthritic, but many still tremble with memories of Sabrina. Some of these memories are publishable.

Odd things about Sabina: some are very odd indeed

Did you date Sabrina? (Yeah, yeah. Sure you did.).
Anyway, these big names really dated Sabrina.

The Elite BOOBS Society - Best Of Our Beautiful Sabrina - for discerning gentlefolk only.
Since 2013, a closed society.

The Sabrina Hall of Fame
Join this pantheon of honoured contributors - earn a prestigious Sabrina Honour.

How to spot the real Sabrina - some search tips

Sabrina Collectibles
Genuine?

Maybe, maybe not... probably not.

Site History - everything that has been done to this site, since like forever.
Did
You
Want
B.O.O.B.S.

?

You might be wondering what the golden keys are doing beneath many of the images on this site. They are reminders of the previous programme "Best Of Our Beautiful Sabrina" scheme by which contributors could gain access to unique high-resolution, umwatermarked images or very large videos that were too expensive in terms of storage and bandwidth to offer to everyone. Sadly, there were too many cases of people contributing a little and then reselling the quality Sabrinastuff online.

The B.O.O.B.S. program was suspended for new subscribers from 8 August 2013. Previous VIP members may still access their VIP material using the golden keys. You can still support all things Sabrina by contributing using the link below

Vital
Sabrina
Stats

Stage name:
Sabrina (origins)
Real name:
Norma Ann Sykes
Born:
19 May 1936 in Stockport, Cheshire, England.
She was not born in Blackpool or Wales in 1933 or 1938.
Measurements:
42½-18-36 (the trademark "½" was vital).
AKA:

"The Hunchfront of Lime Grove"
"The British Bosom"
"The Careless Cleavage"
"Britain's Jayne Mansfield"
"Britain's finest hourglass"
"England's Maid of the Mountains"
"Queen of the Big Top"
"The Juliet with the Built-in Balcony"
"The average Englishman's Goddess of Glamour."
"Poor photographer's model"
"British TV's first sex symbol"
"The Shape"
"La Busto" - Cuban Press
"Blondely bulbous non-actress" - Encyclopedia of British Film.

In the words of Raymond Chandler, Sabrina had curves "to make a bishop kick a hole in a stained glass window".

Career span:
Working years: 1954-1969.
Golden years: 1955-1959
Talents:

Pinup star, TV celebrity, stage actress, singer, film and TV actor, cabaret and concert performer, self-publicity. Driving [MP3]. Cooking [MP3].

Current status:
Alive, gorgeous, fairly well (with leg and back problems), and living in North Hollywood.

In
Search
Of
Sabrina
Stuff

If you have found Sabrina stuff, I would be delighted if you contacted me. Yes, even after the site's retirement I am open to exciting new finds. There are precious few undiscovered pictures still to be on the internet but I'm sure there are still a few knees trembling out there, especially in the UK, and those knee-owners may have a buried Sabrina treasure or two in the sock drawer. This is an international philanthropic enterprise, for the benefit of red-blooded males everywhere!

Young men: go to your aged fathers and grandfathers and say, "Do you remember Sabrina?" If their eyes glaze over and they start drooling, let me know. Personal recollections of Sabrina are valuable.

You! Yes, you, laddy! I recognise YOU. You were a knee-trembler of the Sabrina generation. This is what you do. Wait 'til the missus is out and rummage through your secret stash of goodies you don't think she knows about. There may just be a magazine, photo or love letter related to Sabrina. Perhaps you have one of these elusive goodies stashed away under your pyjamas? If you find something, steady your trembling fingers and let me know.

(Puts "Land of Hope and Glory" on gramophone)

Go to it, lads! Sabrina is the last great unexploded bombshell from the busty, blonde 1950s.
We cannot let her memory sink into the abyss of forgotten legends.
We owe it to our sons and grandsons!

(Wipes tear from eye.)

And the final appeal is from Sabrina herself (from Mountains of the Moon)

Thank you - thank you all!

Can you support the Sabrina Stuff Site?

In
Conclusion

Thank you for visiting, and I hope some happy memories and loins have been stirred.

Many people have gone "Corrrr - blimey - I remember those!"
since the first Sabrina page was created at nylon.net on 16 June 2000.
It moved to sabrinastuff.com on 1 Sept 2003.
Moved back to semi-retire at nylon.net/sabrina on 12 April 2005
Back to full steam in 2008. It's strange how things go.
The site gracefully retired 8 August 2013, due to a lack of new Sabrinastuff.

"Who would've thought the dumb blonde to have so much talent in her?" - Lady Macbeth.


Visit the original site from way back when, courtesy of archive.org.

This site was proudly made in Australia, with pure Australian HTML.

All original content copyright © nylon.net

All Rights Reserved.

This page was last modified: Friday, July 21, 2017 1:48 PM

None of the copyrighted pictures or text on this site may be re-used without permission.
Many pictures here are the copyrighted intellectual property of Sabrina (Norma Ann Sykes) or other contributors.
If you want to use this Sabrina Stuff, please read the conditions of use