23 May 2016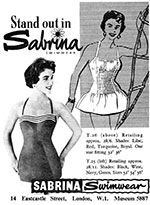 In 1956, this unauthorised reference must be to our Sabrina.
19 May 2016
HAPPY BIRTHDAY SABRINA!
It's now a national holiday. Tell your boss I said so.
Take off home and bake a cake.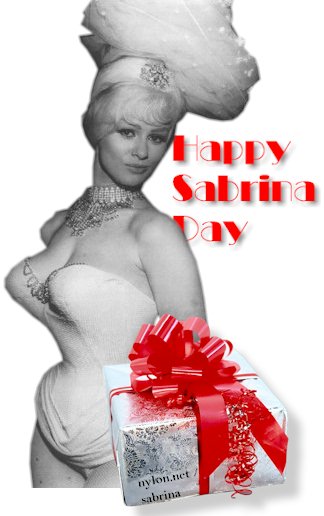 17 May 2016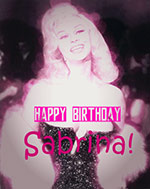 Long-time Sabrinafan First Class Anastasia of Mother Russia sent this electronic card for Sabrina's big birthday.
15 May 2016
"With feathers in her hair, on on her dress - lovely SABRINA is pictured on her arrival for last night's [7 Nov 1956] premiere of the film "Moby Dick" - at the Warner Theatre."
Damn, I bet those feathers tickled some fancies that night...
13 May 2016
A big surprise for Sabrina's big birthday - colour film of Sabrina's appearance at Point Leo Surf Club in 1959. Woohoo! Many thanks to Adrian R for the unique film.
11 May 2016
Warning! Sabrina's big birthday takes place in ONE week!
What on earth are you people all doing?
Get those buntings and street parties happening!
If the Queen could get a street party, Sabrina should get one... and our Sabby's ten years younger!

27 April 2016
Sabrina's (cough) eightieth (cough) birthday is on May 19. Feel free to send your birthday messages to her.
But if you ask me, she will forever be our young innocent Norma Ann.
16 April 2016
8 January 2016
Some actual news. The BBC got in touch. They are making a programme for Radio4 that references Sabrina, and needed to get hold of a copy of her song 'Persuade Me' for the programme because the BBC's vinyl copy "seems to have gone missing." I sent the producer my best quality copy, so when you hear the song on the radio,you can think of Sabrinastuff !
---